The Israeli Foreign Ministry shares the photo of Gaza bombing from the Quran with the Surah
A photo of the blockaded Gaza Strip bombed by the Israeli army has been released from an Arabic-language social media account owned by the Israeli Ministry of Foreign Affairs.
The Surah Elephant of the Holy Quran was shared with the published photo.
In the Quran, the sharing of Surah al-Fil, which tells about the attack of the governor of Yemen Abraha on the Kaaba, the house of Allah and the end he encountered, with a photograph of Gaza bombed, caused a reaction.
It is noteworthy that from time to time such posts are made from Israeli official accounts, especially the Israeli Army Spokesperson Avichay Adraee.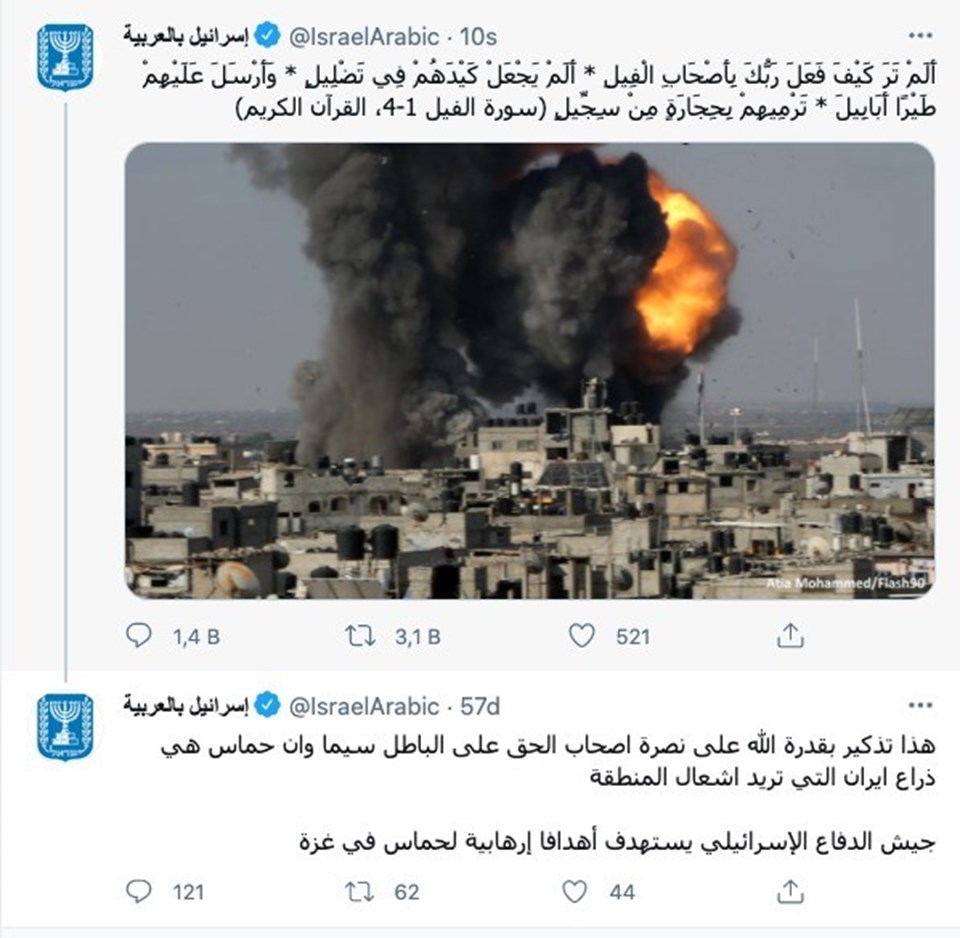 CONGRATULATION FROM MESCID-İ AKSA FOUNDATION MANAGER
Sheikh Omer Al-Kisvani, the Director of the Masjid Al-Aqsa Foundation, described Israel's attack on the Gaza Strip as "brutally" and criticized the verses from the Quran made on Israeli social media accounts.
Sheikh Kisvani pointed out that Israel distorted the meanings and contexts of the verses and said:
"They turn the verses out of context and turn them inside out. They are actually the Elephant owners, not the oppressed people in Gaza."
Sheikh Kisvani emphasized that such posts mean "making fun of Allah's verses" and said, "This is clearly to mock Allah's verses. We strongly condemn what has been done." said.
Stating that what Israel has done is a great cruelty and that he has nothing to do beyond this persecution, Sheikh Kisvani once again reiterated that the real "Elephant owners are the Israeli army".
Sheikh Kisvani noted that Israel mocked and provoked the feelings of not only the Palestinians, but the entire Islamic world with such posts.
Sheikh Kisvani also prayed to Palestinians in the Gaza Strip, "I ask God to steal what Israel has done to him." used the expressions.
In Israel's attacks on the Gaza Strip since May 10, 213 people – 61 children and 36 women – have lost their lives and 1442 people have been injured.