Russian dissident Navalny's health is getting worse
Leonid Volkov, the deputy of the Russian opposition leader, announced that Alexei Navalny's health was getting worse. Stating that Navalny could not stand up due to back pain and numbness in his legs, Volkoy also stated that the leader was not allowed to meet with his lawyers and said, "We do not understand why Alexei Navalny is hiding from his lawyers. "We suspect the prison administration is trying to cover up Navalny's hospitalization," he said.
RUSSIA REFUSES TO COMPLY WITH THE DECISION OF THE AIHM
However, Russia refused to comply with a European Court of Human Rights decision to release Navalny, as his security in prison was not maintained.
Navalny's lawyers Olga Mikhailova and Vadim Kobzev announced that for the first time since the Russian dissident's arrest, he was unable to attend a planned meeting with his lawyers. Lawyers reported that Navalny had previously been treated by a prison doctor who only gave him two ibuprofen tablets.
RUSSIAN FEDERAL PRISON SERVICE: STABLE
On the other hand, Interfax news agency claimed that Navalny's health condition was stable and there was nothing to worry about in its report, based on Russian Federal Penitentiary Service officials.
PROTESTS CONTINUE
On the other hand, tens of thousands of people across Russia protested the Navalny's detention, resulting in mass pressure on the opposition and thousands of arrests. The opposition called for a temporary halt to the protests, but said it would continue the protests until 500,000 people signed an online petition for Navalny's release. As of Wednesday evening, approximately 200 thousand people have registered for the petition campaign.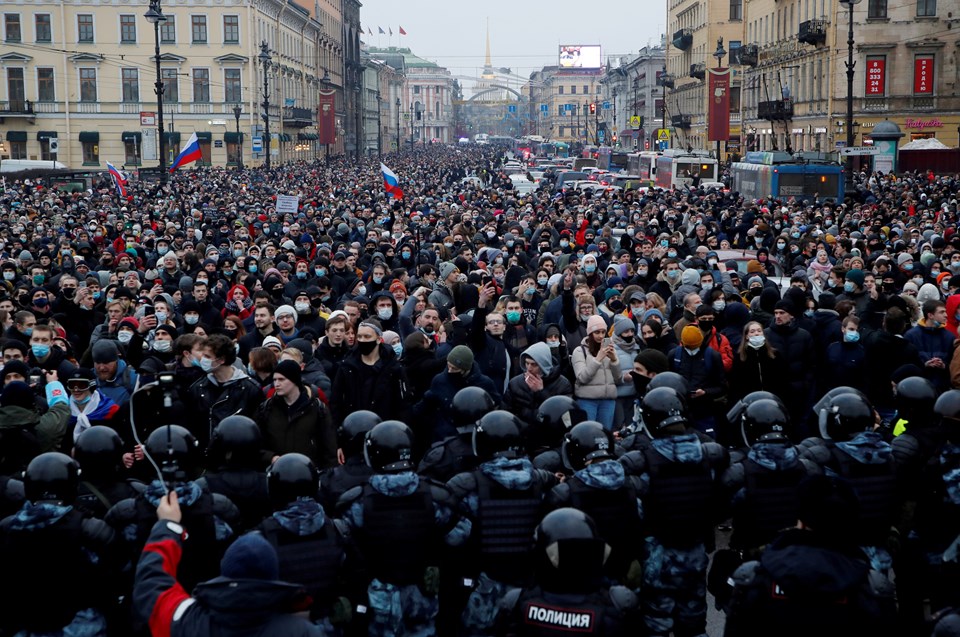 Many of Navalny's senior aides and his brother, Oleg, are abroad, like Volkov under house arrest for alleged violations of the protests.
A note sent by Navalny was shared 10 * days ago after the visit of his lawyers from the Russian opposition Instagram account, "I must admit that the Russian prison system has surprised me. I would not even think that a real concentration camp was built only 100 km from Moscow."
Navalny is being held in a prison known for its very tight control in the Vladimir region in northeastern Moscow.
NAVALNY'S ARREST PROCESS
Navalny was sentenced to 2.5 years in prison for violating judicial control requirements while in Germany.
Navalny, who was transferred to the Charite Hospital in Berlin on a private plane on 20 August 2020, on his return from Tomsk city to Moscow, was transferred to the Charite Hospital in Berlin and recovered.
Claiming that "he was poisoned by Russian intelligence on Putin's instructions," Navalny was detained at the airport while he was under passport control on his return to Moscow last weekend and was arrested by the court where he was taken. Protests were held across the country for the release of Navalny.
MASK USE MAY BE PERMANENT
Download the NTV application, be informed about the developments