Palestinian diplomacy by President Erdogan | NTV
Turkey, IsraelAgainst the attacks of PalestineWhile continuing its initiatives to mobilize all relevant international institutions, especially the United Nations and the Organization of Islamic Cooperation, President Recep Tayyip Erdogan So far, he has made phone calls with the heads of state and government of nearly 20 countries from Palestine to Russia, Qatar to Pakistan, Kuwait to Algeria.
President Erdoğan invited the leaders with whom he met to take effective joint action against Israel's attacks and oppressions against Al-Aqsa Mosque, Jerusalem, Gaza and Palestinian Muslims. In this direction, Erdogan made his first contact with Palestinian President Mahmud Abbas and Hamas Political Bureau Chairman Ismail Heniyye, Russian President Vladimir Putin, Qatar Emir Sheikh Tamim bin Hamed Al Sani, King Abdullah II of Jordan, Emir of Kuwait since 8 May. Sheikh Nevvaf al-Ahmed al-Jabir al-Sabah, Malaysian King Sultan Abdullah Riayatuddin Al-Mustafa Billah Shah, Indonesian President Joko Widodo, Algerian President Abdulmecid Tebbun, Uzbekistan President Shevket Mirziyoyev, Pakistani Prime Minister Imran Khan, Turkish Republic of Northern Cyprus President Ersin Tatar In talks with the President of Kyrgyzstan Sadır Caparov, Afghanistan President Eşref Gani, Iraqi Prime Minister Mustafa Kazımi, Nigerian President Muhammed Buhari, Libyan Prime Minister Abdulhamid Dibeybe, Sultan of Oman Heysem bin Tarık and Malaysia's former Prime Minister Mahathir Muhammed, took his attacks.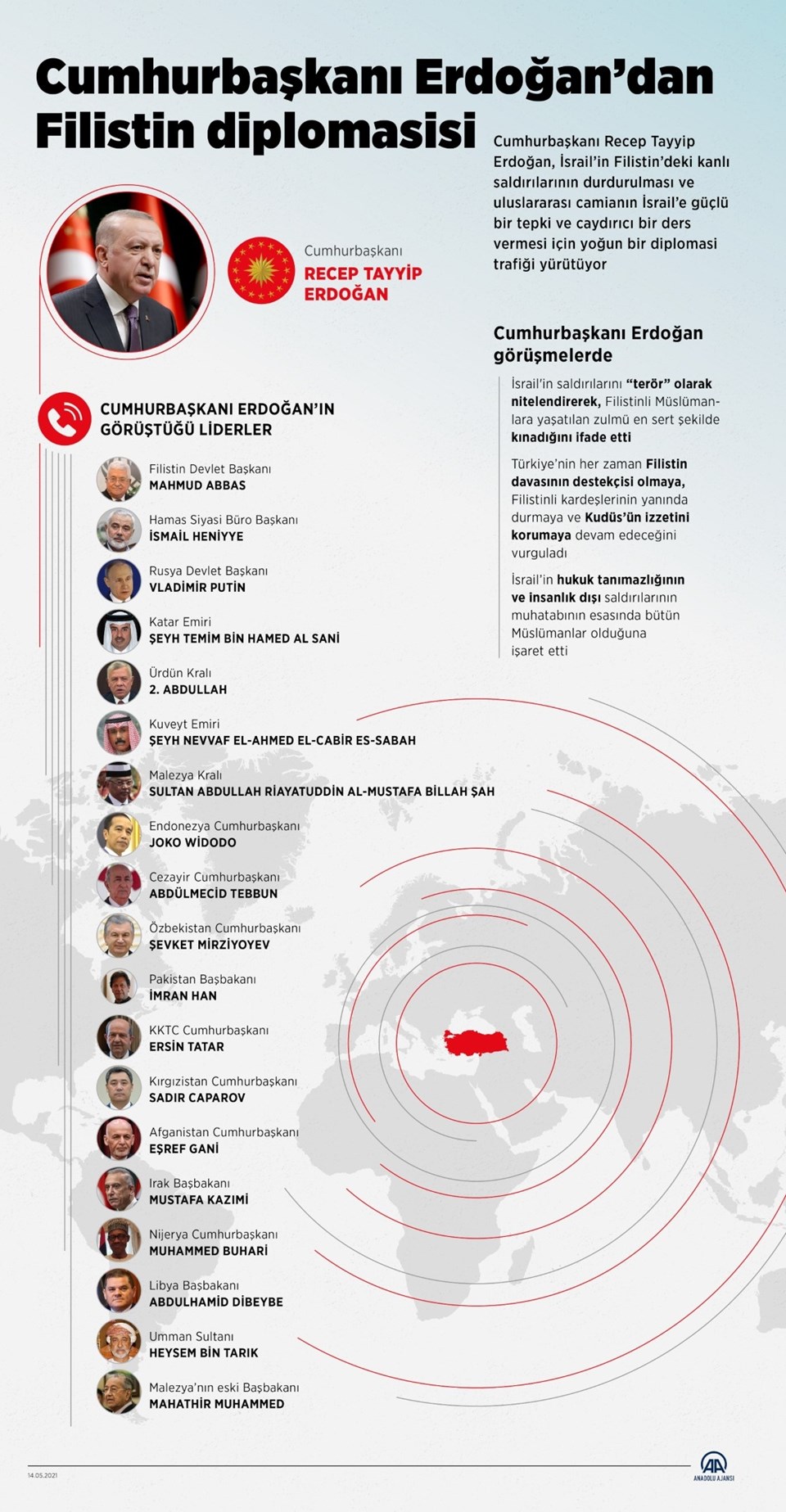 MESSAGES GIVEN BY THE PRESIDENT ERDOĞAN
During the meetings, President Erdogan stated that he condemned the persecution of Palestinian Muslims in the harshest way, describing Israel's attacks as "terror". Stating that they are making attempts at every level to mobilize the whole world, especially the Islamic world, to stop Israel's terrorism and occupation, Erdogan emphasized that Turkey will always continue to be a supporter of the Palestinian cause, stand by its Palestinian brothers and protect the dignity of Jerusalem.
Pointing out that all Muslims are the object of Israel's lawlessness and inhuman attacks, President Erdoğan said that Israel's attacks were to be stopped immediately, the international community reacted strongly and deterrent to these attacks, took concrete steps against illegal practices and supported Palestine. drew attention to the importance of the work.
President Erdoğan stated that it is important for the United Nations Security Council to get involved before the crisis grows further and that the idea of ​​sending an international protection force to the region to protect Palestinian civilians should be worked on.
In addition, in line with Erdogan's instructions, the Presidency of Religious Affairs organized an "Emergency Jerusalem Meeting" with the "Masjid al-Aqsa and Jerusalem" agenda with the participation of the ministers, presidents and chief mufti of Islamic countries.
At the meeting, a common stance was made regarding the protection of the holy of Jerusalem and the end of the persecution of Palestinian Muslims.
VIDEO: ISRAEL CONTINUES ITS GAS ATTACK