More than 610 million doses of Covid-19 vaccine were made worldwide
It has been reported that more than 610 million doses of vaccines have been made to immunize against the new type of corona virus (Covid-19) worldwide.
According to the website "Ourworldindata.org", where Corona virus vaccine data were compiled, the USA was the country with the most vaccine in the world with 153 million 63 thousand doses of vaccine, while China with 119 million 82 thousand doses, India with 68 million 79 thousand doses, 35 million 66 thousand doses. England, 20 million 7 thousand in Brazil, 16 million 15 thousand to Turkey, 13 million 77 thousand and Germany, 12 million 23 thousand in Indonesia, 11 million 64 thousand in Russia, 11 million 39 thousand with France, Chile with 10 million 76 Israel followed with 10 million 6 thousand.
ISRAEL, THE COUNTRY WITH THE HIGHEST VACCINATION
Israel was the country where the highest dose of vaccine was given for every 100 people compared to the population. In Israel, where the number of doses applied so far has exceeded the population of the country, the number of doses per 100 people was 116.18.
Seychelles with 103.8 doses, United Arab Emirates (UAE) with 84.84, Chile with 56.29, England with 52.53, Monaco with 46.7, USA with 45.94, Bahrain with 45.56. The Maldives followed with 44.54.
THE MOST OUT OF TURKEY 6.ÜLK to
According to Ministry of Health data, as of April 2 in Turkey with 16 million 380 thousand 634 doses of vaccine were made Kovid-19. Turkey, which ranks 6th in terms of the total number of vaccinations among the world countries, each was 19.15 per 100 people Number of vaccine.
9 million 343 thousand 819 people received the first dose and 7 million 39 thousand 815 people received the second dose.
NORTH-SOUTH CROSS
In the distribution of vaccines by continents, the Asian continent ranks first with 260 million 13 thousand vaccines, followed by North America with 169 million 82 thousand and Europe with 128 million 66 thousand vaccines.
Continents and regions in the Southern Hemisphere lagged behind those in the north. 39 million 35 thousand doses of vaccine were administered in South America, 11 million 42 thousand in Africa and 778 thousand 733 doses in Oceania.
All but one of the Covid-19 vaccines, which have been allowed to be used or used urgently to date, are administered in two doses and intermittently. Therefore, the number of doses administered does not mean that the same number of individuals have been vaccinated.
Covid-19 spread to more than 200 countries and regions, turning into a global epidemic.
While the number of cases worldwide exceeded 130 million 206 thousand, more than 2 million 840 thousand people died due to the virus.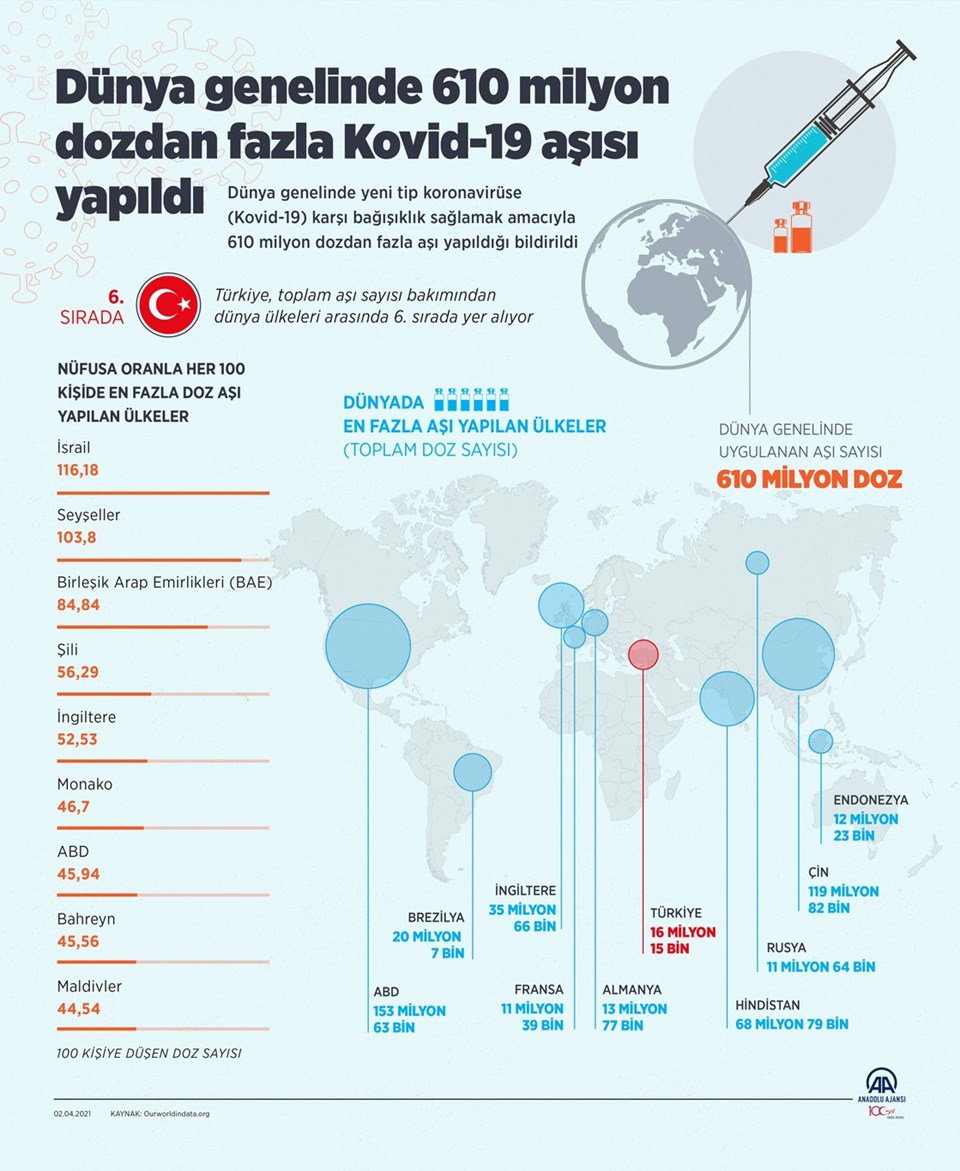 THE NUMBER OF CORONA VIRUS CASE INCREASED BY 212 PERCENT IN A MONTH
Download the NTV application, be informed about the developments