Israel hit the media building in Gaza
Ten more Palestinians, most of them children, were killed in an attack by Israeli warplanes on a house in the Shati Refugee Camp in the western part of Gaza.
According to the information obtained from health sources, Israeli warplanes attacked the house of the Abu Hatab family in the Shati Refugee Camp.
8 children and 2 women, 10 more Palestinians died in the attack. The names of the 8 people who died in the attack are Yasemin Hassan (31), Yamin (5), Bilal (10) and Yusuf (11) from the Abu Hatab family, Muha (36) from the El-Hadidi family, Abdurrahman (8), Suheyb (14) and Yahya (11).
It was reported that the search and rescue activities under the wreckage are continuing.
Deputy Minister of Health in Gaza, Yusuf Abu Riş, told the press that the only survivor survived from the house where the attack took place is a 2-month-old baby.
Abu Rish stated that even describing the attack in the Shati Refugee Camp as "massacre" would be insufficient.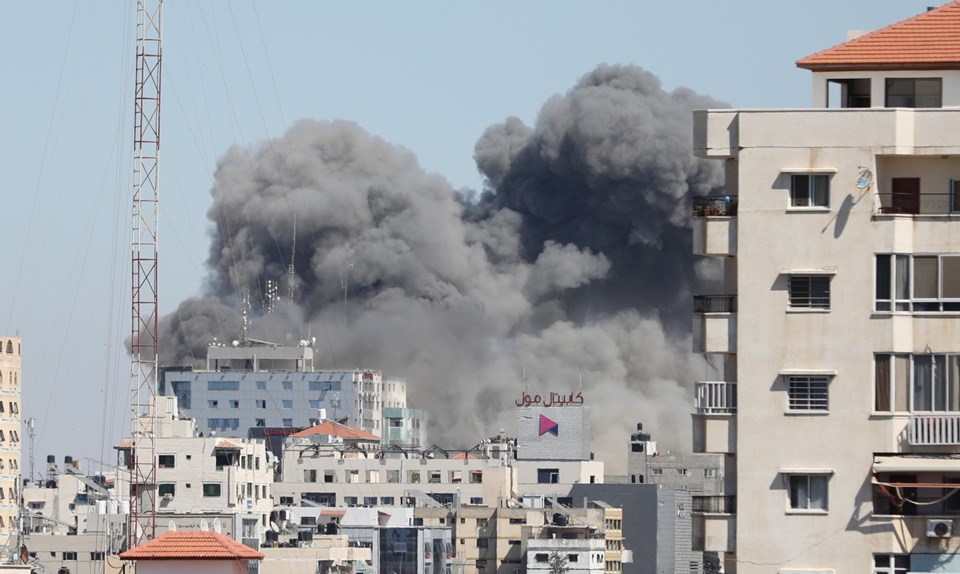 On the other hand, the Izzeddin al-Qassam Brigades, the military wing of Hamas, announced that Beersheba was hit with rockets in response to an attack on a house in the Shati Refugee Camp and to avenge the Palestinians who lost their lives in the occupied West Bank.
In the late night attacks of Israeli planes on the Tel Kuleybu area in the north of Gaza, 3 Palestinians, 2 of them brothers, died.
Thus, 139 Palestinians, including 39 children and 22 women, have lost their lives and 950 Palestinians have been injured in Israel's attacks on the Gaza Strip since May 10.
ISRAEL HITS THE MEDIA BUILDING IN GAZA
On the other hand, the Israeli army hit a high-rise building in the city of Gaza, inside the offices of the American-based news agency Associated Press (AP) and the Qatar-based TV channel Al-Jazeera. Smoke rose from the area after the attack.
The moment of the attack was also reflected in the cameras. The Gaza Tower, which hosted media outlets, was hit by missiles. The building was completely destroyed. Eyewitnesses stated that the building was evacuated before the attack.
The international news agency Associated Press announced that the Israeli army had warned its owner that the building would be targeted.
Download the NTV application, stay up to date