Donald Trump launches a website to communicate with supporters
ABDFormer President of Donald Trumplaunched a new website for its supporters. The social media accounts of the 45th President of the United States were removed by Twitter after the Congressional crackdown in January, and suspended by Facebook and YouTube.
Trump's new site, "From Donald Trump's Desk", looks like an early 2000s blog page, but allows users to interact with shared content. These visitors can like and share Trump's posts on their Twitter and Facebook accounts.
However, in a video on the site, "A movement of freedom is emerging in a time of silence and lies. A new place where you can talk freely and confidently from Donald Trump's desk."
It came one day before FACEBOOK's decision
However, Trump's website came a day before Facebook's Supervisory Board announced its decision on whether to ban Trump permanently on the social media platform.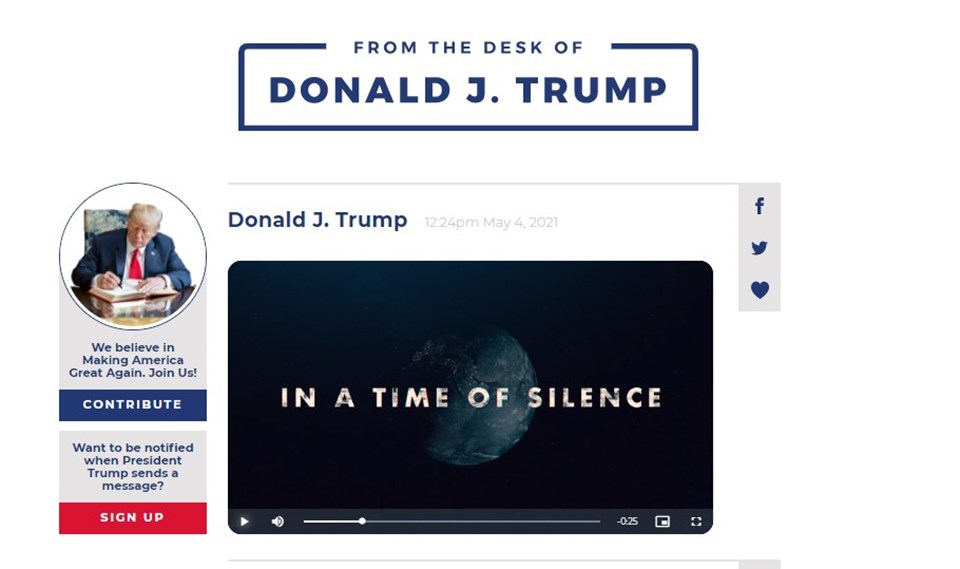 TRUMP'S ADVISOR: THIS IS NOT THE GREAT PLATFORM I MENTIONED TO
Trump's senior advisor, Jason Miller, recently stated that the 74-year-old former president of the United States is working on a new social media platform and said, "This new platform will be huge." However, Miller tweeted on Tuesday that Trump's new website is not the social media platform he announced before and said, "We will receive additional information on this issue in the very near future."
REPEATS BIDEN'S ALLEGED CHEATING IN THE ELECTIONS
On the other hand, the website was built by Campaign Nucleus, a digital services company founded by Trump's former campaign manager Brad Parscale. At the same time, many posts on the site appear to support claims that last year's US Presidential election won by Democrat Joe Biden was fraudulent.
On the other hand, Facebook's Supervisory Board will have seven days for the former US President to reactivate Facebook's account if a positive result comes after Trump's decision to ban it permanently from the platform. While YouTube stated that they will reactivate Trump's account when the threat of "real-world violence" subsides, Twitter, which Trump has 88 million followers, has banned him permanently.
USA AND CHINA WILL WORK TOGETHER IN THE CHIP CRISIS